For many years, chefs have been wearing personalised chef jackets as a way of demonstrating their individuality, building their branding and conveying a strong, professional style and image.
On this page, we look particularly at embroidery—how it's done, what you can have embroidered, and what this bespoke service might cost. We also cover other methods such as printing.
Quick links:
How is embroidery used for personalised chef's jackets?
Embroidery is the method of stitching something to the fabric of a garment.
It's the tried-and-tested, most popular way to customise chef's jackets, as well as other catering or hospitality garments such as:
chef whites
bib aprons
kitchen aprons
chef's hats
What can be embroidered onto a chef's jacket?
The following embroidery is the most common:
Text—such as the name and/or title of the head chef or other staff member, or the name of the restaurant
A logo
Any other image or design that represents the business
Flags—either individual or crossed flags (see image)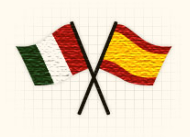 Technically, however, you can choose anything.
To read more about these options, click here to move down the page.
Where on the garment does the embroidery go?
Popular positions for embroidery on chef's jackets are on the:
chest
sleeves
yoke (top of the back)
neck/collar
It varies from retailer to retailer, but generally you'll find the embroidery on chef's jackets and other kitchen garments positioned as follows.
Chef's jackets

Most commonly stitched onto the jacket's left breast, roughly in line with the second button from the top. Other options include:

front right breast
front centre
back left shoulder
left or right sleeve

It's worth keeping in mind that with jackets that fasten both ways, left-breast embroidery can be partly covered when fastening the jacket right front over left.

Bib aprons

Typically embroidered 3 inches (8cm) from the top of the bib and in the middle.

Chef's hats

Generally, the stitching will go in the middle of the front of the hat.
As embroidery is a bespoke service, you should be able to request that the stitching is placed elsewhere on the garment. However, this will depend on whether:
there is enough space for the embroidery (e.g. on smaller-sized jackets and other items)
the retailer deems it a suitable position (some state that accepting custom requests is at their discretion)
How does it work?
The embroidery is typically done using high-precision machinery. Guided by special computer software, the machine takes a digital image of the text or design and stitches it directly onto the clothing.
With its raised, solid texture and stitching of the highest quality, the embroidered design feels like an original part of the garment and is intended to last as long as the garment itself.
Not all retailers of kitchen clothing offer this kind of customisation, but for Russums it's a specialist area of the company's service.
How do I get a chef's jacket embroidered? What's the process?
Generally, when you buy a chef's jacket from a retailer that offers embroidery, you'll be able to choose it as an added extra when you go through the checkout process.
As you follow the on-screen instructions, you'll give specific instructions on the type of embroidery you want and where on the garment you want it to be stitched.
Lettering
You'll need to specify the following:
Most embroidery services will be able to stitch lettering across one, two or three lines. For example:
One line—typically a name or company name (e.g. 'John Smith')
Two lines—typically a name on one line and a job title underneath (e.g. 'John Smith' 'Head Chef')
Three lines—typically a company name with the chef's name underneath and a job title underneath that (e.g. 'The Red Lion', 'John Smith', 'Head Chef')
There will be a limit to the number of characters on each line and the height of the lettering (around 12mm).
Each retailer offers different fonts and styles, but you'll have a variety of options. Some of the fonts Russums can embroider are shown below.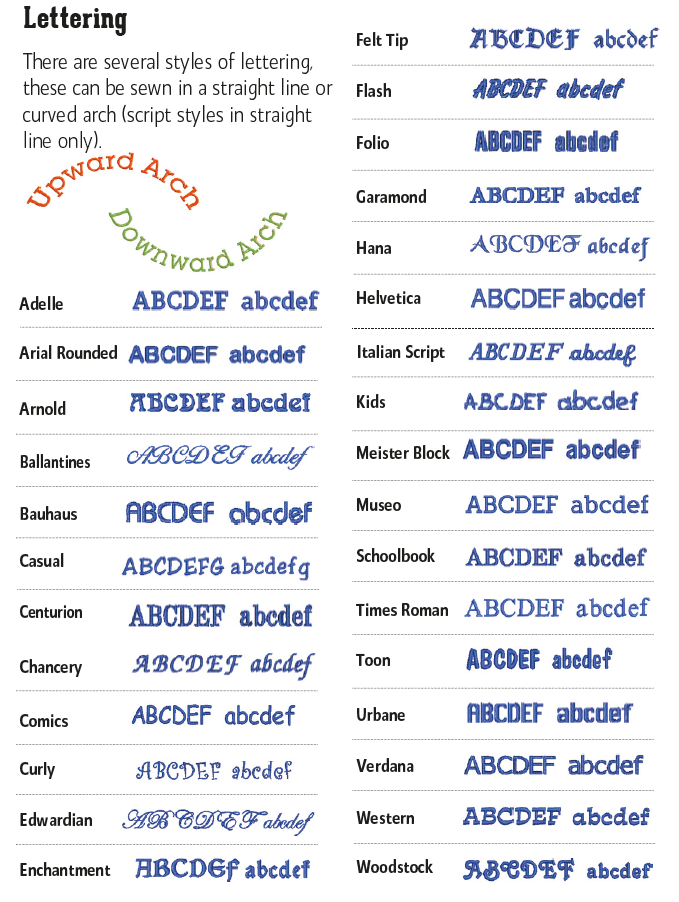 Again, the range of available colours varies between retailers, but you'll usually be able to specify the most common ones. Russums offers the colours shown below.

See 'Where on the garment does the embroidery go?' above.
Logos or flags
To have an embroidered logo, flag or other design, you must provide a digital version of the image first. The embroidery service will use this to properly set up its machines (known as 'origination').
When you go to buy your chef's jacket and choose the embroidery, you'll either upload your digital image (JPEG format, most commonly) or be asked to email it to the retailer separately.
The retailer will convert the image into a file that gives the embroidery machine the instructions it needs to stitch the design onto your garment. There is usually a small set-up fee for this part of the process. Russums, for example, charges a one-off cost of £25 + VAT.
Size limitations generally apply—a standard logo is usually between 6cm and 8cm in width and/or height. Anything larger will be accepted at the discretion of the retailer.
Flags can be embroidered in two styles, either with crossed poles or the flat flag only (with no pole). Crossed flags are ideal for positioning on the front, back or sleeves, while flat flags work well on the collars of jackets or shirts.
How long does it take?
Each retailer will have a different timescale for custom embroidery. As an example, Russums asks for seven days to complete this kind of bespoke work.
Can any material be embroidered?
Most chef's jackets, aprons and other kitchen garments are made of cotton, cotton twill or a blend of cotton and other materials. Cotton is ideal for embroidery.
As the stitching needs to have clean edges and avoid rippling or warping the garment, the texture and coarseness of the material is important. The best materials are:
smooth
durable
not too stiff
difficult to stretch
Can chef's jackets be monogrammed?
A monogram is a motif made by overlapping or combining two or more letters to make one symbol. They are most commonly made by combining the initials of an individual or a company.
If you would like a monogram embroidered to your chef's jacket or other work wear, this should be something that any good embroidery service can accommodate.
Are there other ways to personalise chef's jackets?
Yes, but they might not be as suited to chef's jackets and other kitchen garments as well as embroidery is. The main ones involve some type of printing.
Other methods of creating personalised clothing include the following:
Screen printing—ink is applied directly through a screen onto the garment
Digital and litho transfers—designs are printed onto a special paper, which is then cut to shape and applied to the garment using heat and pressure
Vinyl printing—the design is cut onto a sheet of vinyl, which is then heat-sealed onto the garment
Sublimation printing—uses a specialist ink to permanently dye the fabric (which needs to be white or a light colour)
Russums chef's jackets—view the full range
Related content
The best chef's jackets—best brands, top 10 and how to choose the right one
Black chef's jackets—long-sleeved, short-sleeved, premium fabric & more