In this guide, we:
explain what materials are commonly used to make chef's jackets and why
tell you how to choose between them
show you some options from Russums' wide range of chef's jackets
Click a link to jump to that section:
Jump to our range of chef's jackets
Why the material of a chef's jacket is important
A jacket's material is extremely important, as it has a bearing on the garment's:
weight
ventilation (or "breathability")
level of protection
comfort
Most chef's jackets are made of cotton, polyester or polycotton (a blend of polyester and cotton). We talk more about the benefits of each option below.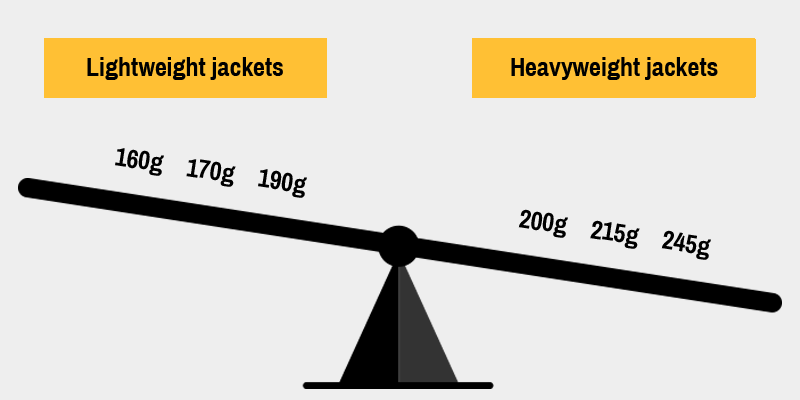 Fabric weight
There's a relationship between the weight of the material used to make a chef's jacket and its thickness (it's explained further here). Jackets made from 100% cotton or a cotton/polyester mix tend to be thicker, and heavier as a result.
But thicker, heavier jackets aren't suitable for everyone. Some chefs find them restrictive and stifling in the heat and steam of a kitchen, while others see them as necessary in guarding against burns and splashes from hot liquid or oil (see Safety and protection).
Chef's jackets are designed with these potential issues in mind, however. Many good-quality jackets are given a cut or fit that allows cooks to move freely around their workspace, while most have special ventilation systems to combat the heat (see Ventilation).
Lightweight jackets make movement much easier but sometimes lack the durability to withstand long-term use. That said, they can be comfortable in extremely hot and humid working conditions.
Ventilation
There are few hotter workplaces than the professional kitchen, so chefs require a jacket that will keep them cool for their entire shift.
A well-ventilated jacket is one which is "breathable"—that is, able to absorb moisture (i.e. sweat) and then release it out into the air. A breathable chef's jacket stops the wearer from overheating while allowing air to circulate between the fabric and skin and remove any lingering body odour.
The most breathable chef's jackets have a number of features that allow for this kind of ventilation, including:
mesh panels around the back and/or sides (often marketed as a patented technology—for example, StayCool or Coolmax)
underarm vents
aerated back panels
side vents and/or side slits
View breathable chef's jackets
Safety and protection
Chef's jackets must shield the wearer from accidents involving burns from a flame or hot surface or spattering oil or liquid spills. Cotton—especially the thicker, heavier varieties—is especially good at providing this kind of protection, particularly when used to make a jacket that's both double-breasted and long-sleeved.
Comfort
Any shift a chef works will be long and hot, so their clothing needs to sit comfortably on their body and not restrict them in any way. Again, cotton lends itself perfectly to this purpose.
Although some thicker garments can be quite stiff—most notably around the shoulders and arms—the better-quality chef's jackets are designed with a fit that allows greater freedom of movement.
Some jackets incorporate other innovative features that keep the professional chef as comfortable as possible, such as:
special anti-rub collars to stop the garment rubbing around the neck
seams designed not to chafe skin
Chef's jacket materials—your options
Most chef's jackets are made of:
cotton
polycotton (a cotton polyester blend)
Cotton is a very popular material for chef's jackets as it's comfortable, breathable and thick enough to provide the necessary protection against burns and hot splashes. It's also versatile, so it can be used to make either a hardwearing, premium-quality jacket that's formal in appearance, or a lighter, casual jacket with a more relaxed fit.
There are different types of cotton, some of which are considered premium, luxury or high-end varieties due to the superior quality of their fibres and weave. These include:
Egyptian cotton
Pima cotton
With polycotton, a standard rule of thumb is that the higher the ratio of cotton to polyester (52/48, 50/50 or 35/65, for example), the better the quality of garment.
View chef's jackets by material
Buttons and fastenings
While some chef's jackets have plastic studs as fastenings, many of the jackets at the higher end of the range—such as those made of 100% cotton or luxury varieties like Egyptian or Pima—come with knotted cloth buttons.
With plastic or metal buttons, there's a possibility that a piece might chip off and potentially contaminate the food. Knotted cloth buttons, on the other hand, avoid this risk completely, and are also much simpler to undo if the chef needs to remove their jacket in an emergency.
Most chef's jackets, aprons and other catering garments are made of cotton, cotton twill or a blend of cotton and another textile. Cotton is ideal for embroidery.
Embroidery
Most chef's jackets are made of cotton, or a blend of cotton and other materials, and as such are ideal for embroidery. This is why you see lots of chef's jackets with stitched monograms or other sewn detail.
Because the stitching needs to have clean edges and avoid rippling the jacket, the material's texture and coarseness is important. Cotton is smooth, durable, fairly flexible and hard to stretch, and so lends itself to being embroidered.
To read more about embroidering chef's jackets, click here
Best chef's jackets by material
At Russums, we sell chef's jackets in cotton and polycotton. Read more about these materials above.
Cotton/premium cotton
Polycotton
High cotton content
Best chef's jackets for staying cool and comfortable
These jackets offer all the ventilation and comfort a kitchen chef needs, with modern design features such as mesh back and side panels, underarm vents and side slits.
Best chef's jackets by weight
Lightweight
Heavyweight
Size guide, shipping and returns
Sizes
Chef's jacket sizes vary in cut and style from brand to brand. Use the size chart on each product page as a guide.
Shipping
Prices for delivering items are set out on this page
Returns
Read about our returns and refund process here.
Related content
The best chef's jackets—best brands, top 10 and how to choose the right one
Chef jacket colours—what to choose and why