While it's important for any chef's garments to be functional and comfortable, the best women's chef jackets are tailored to suit a woman's body shape while boasting both a stylish and professional appearance.
On this page, we look at the main considerations around women's chef's jackets, including fit, sizing and features to look out for.
How women's chef jackets differ from men's
Fit
It's a fact of life that women and men have different body shapes, and a garment that fits a man's form might not be as suitable for a woman's. Because it's critical for the professional chef to wear clothing that has a comfortable fit and keeps them safe and well ventilated at work, many clothing manufacturers now design chef's jackets that are intended exclusively for women.
Women's chef jackets tend to be cut in a way that gives them a closer, more precise fit. However, although these jackets might hang closer to the body, this doesn't make them any less breathable or more restrictive. Indeed, they are expertly tailored to provide a slim or classic fit while remaining loose and leaving room for air to circulate between the fabric and the skin.
How to measure for a woman's chef jacket
When measuring your body for a chef's jacket, remember that it's your actual body measurements that count, not the garment size you normally wear.
If you're buying clothing for a team of staff, it's important to measure everyone individually. This will help make sure that each employee has a uniform that's as "made to measure" as possible.
There's no need to allow extra room for movement, as most chef's jackets are designed with this in mind. Look for a fit that enables you (or the wearer) to move freely about the kitchen while staying comfortable.
Follow the steps below:
Chest and bust
When sizing any jacket, you should measure over your clothes rather than skin.
Place a measuring tape loosely under your arms, around the fullest part of the chest and bust.
Waist
Keeping the measuring tape slightly loose, measure around the natural waistline—i.e. just above your hip bone and slightly above your navel. Breathe as normal—don't hold your breath, as this will likely lead to an inaccurate waist size.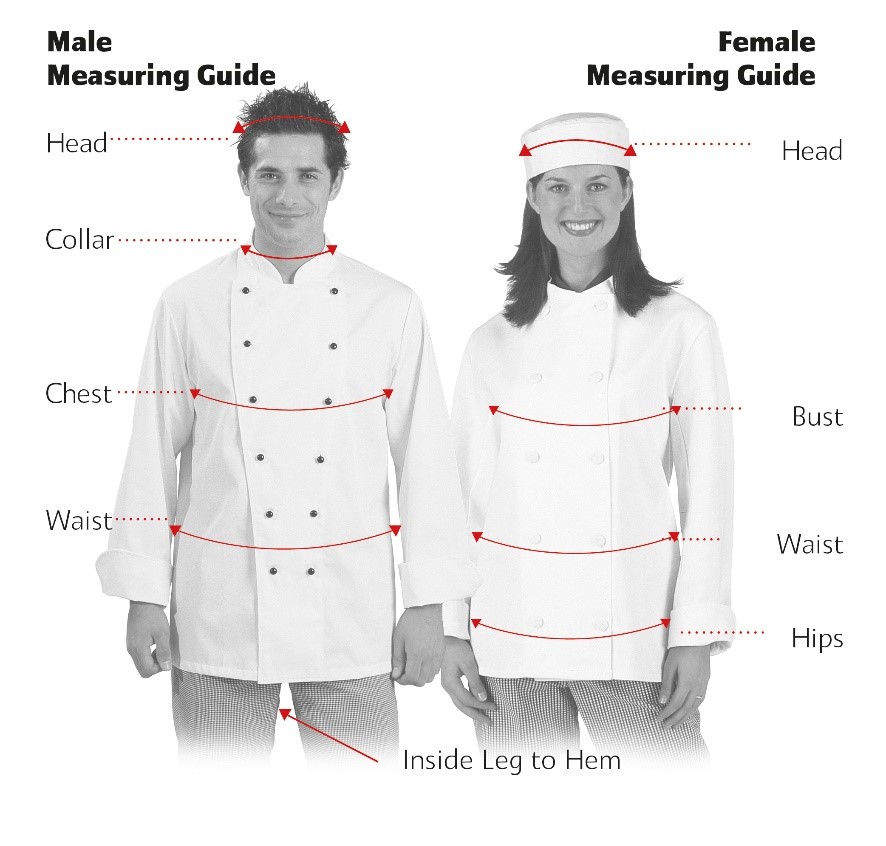 Size
As with most types of clothing, there's little consistency between manufacturers. The table below shows general sizes for women's chef jackets but keep in mind that sizes vary in cut and style from brand to brand.
Some European-made chef jackets (such as those made by Bragard) come in European sizes. The following chart shows the UK equivalents.
Women's chef jackets size chart

UK sizes

6

8

10

12

14

16

18

20

22

24

26

28

30

Euro sizes

34

36

38

40

42

44

46

48

50

52

54

56

58

International sizes

XS

S

M

L

XL

XXL

XXXL

Bust (cm)

79–82

83–86

87–90

91–94

95–98

99–102

103–106

107–112

113–118

119–124

125–130

131–136

137–142

Waist (cm)

58–61

62–65

66–69

70–73

74–77

78–81

82–85

86–89

90–95

96–101

102–107

108–113

114–119
Chef's jackets—features to look out for
Material
Most jackets are made of cotton or a cotton/polyester blend, as not only are these materials breathable and comfortable but they absorb liquids and splashes too.
Read more about chef jacket materials here
Weight of fabric
Generally, the choice is between a lightweight or heavyweight jacket.
With their lighter fabric, lightweight jackets allow for freer movement but can wear more easily. Heavyweight jackets, on the other hand, offer better protection against burns and splashes but can be bulky and uncomfortable for some chefs. Their material, however, is typically of a higher quality.
Read more about lightweight and heavyweight chef jackets here
Design
Chef's jackets are designed for practicality and typically feature one or more of the following:
Long sleeves—protect your arms from burns when reaching across stoves or into ovens
Short sleeves—keep your uniform out of the way of cooking containers and flames, while helping to cool you down
High collars—shield your neck from hot splatters
Double-breasted design—the two layers of fabric guard against scalds and burns, while double rows of buttons enable you to reverse the jacket to hide stains
Fastenings
Knotted buttons and press studs let you quickly remove the jacket if you accidentally spill hot oil. They are also less likely to break and potentially contaminate food.
Women's chef jackets—Russums top sellers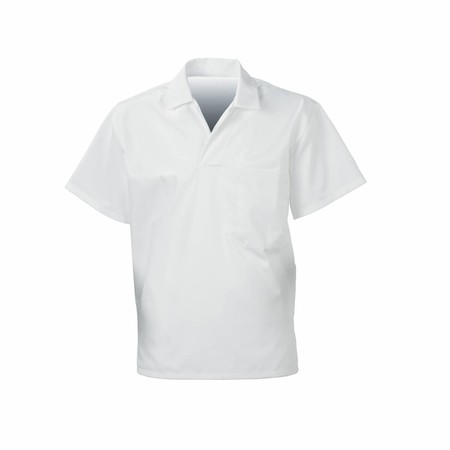 Russums Unisex Bakers' Tunic
Polyester/cotton blend
Open neck
Short sleeves
Inside breast pocket
Sizes: XS, S, M, L, XL, 2XL, 3XL
Price: £9.88 (+ VAT)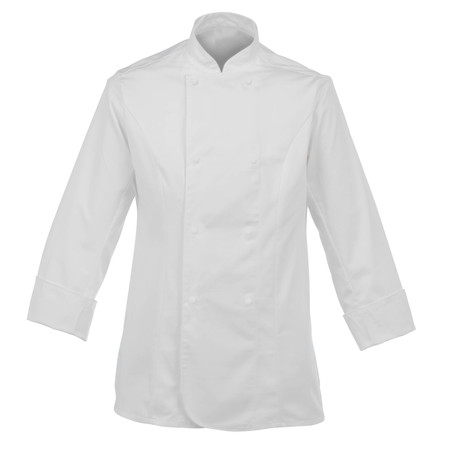 Ladies' Chef's Jacket
65/35 polyester/cotton blend
215g fabric
Double-breasted
Style-capped press studs
French cuffs
Shaped front
Three-piece back
Sizes: XS, S, M, L, XL, 2XL, 3XL
Price: £20.50 (+ VAT)

WHITE
BLACK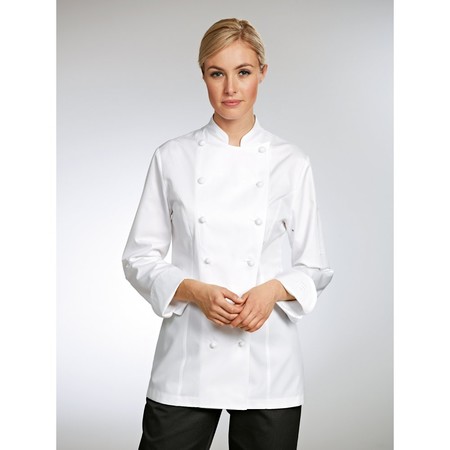 Bragard Grand Chef Lady Jacket
Designed specifically to fit the female silhouette
Pima premium fine cotton
Double-breasted
Hand-sewn cloth buttons
Air vents under arm
Tapered front buttons
Sizes: Euro 34/36, 38/40, 42/44, 46/48, 50/52
Price: £112.00 (+ VAT)
(Can be altered to short sleeves at an extra cost of £1.75 + VAT)
Related content
The best chef's jackets—best brands, top 10 and how to choose the right one
Chef jacket materials—your options and how to choose