The following guide highlights some of the best knives currently on the market. On this page, we look at why the chosen knives perform well and what makes them so popular among professional chefs.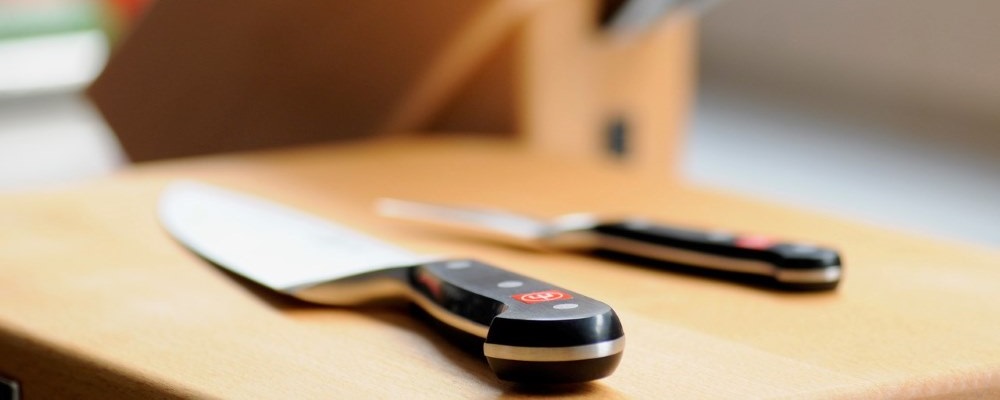 | Bolster | Handle | Method | Steel | Length (cm) | Length (inch) | Cost |
| --- | --- | --- | --- | --- | --- | --- |
| Yes | Western, 3-rivet, full tang | Forged | Chromium-molybdenum-vanadium | 16 | 6 | |
When considering the pros and cons of knife-making techniques, knife styles are often separated into Japanese vs Western, or more specifically, German.
Wusthof is one of the big German knife producers, with a history of knife making that goes back 200 years.
Its 16cm Classic Cook's Knife features a full bolster and tang, forged from one piece of chromium-molybdenum-vanadium blade steel (X50 Cr MoV 15). This gives the knife both a nice balance and a secure feel in your hand.
The handle is a classic three-rivet design with ergonomic styling that allows for a firm grip.
This is a classic chef's knife that's been made to be enjoyed.

Bolster
Handle
Manufacturing Method
Steel
Length (cm)
Length (inch)
Cost

None

D-shaped Japanese

Wooden laminate

Forged

VG-MAX

(Damascus)

18

7
Shun knives are known for two things: beauty and sharpness. However, these are not the only two features to look out for; notice the scallops in the blade that prevent food from sticking and pulling while it is cut. The D-shaped handle combines a classic Japanese look with a design that fits nicely in the hand. The handle design allows for nimble slicing and cutting, but be aware, the light design and lack of bolster mean that its strengths as a delicate slicing tool can also be a liability in the hands of the inexperienced.
And let's not forget the blade's beautiful Damascus markings — evidence of the special steel layering technique used to produce the knife.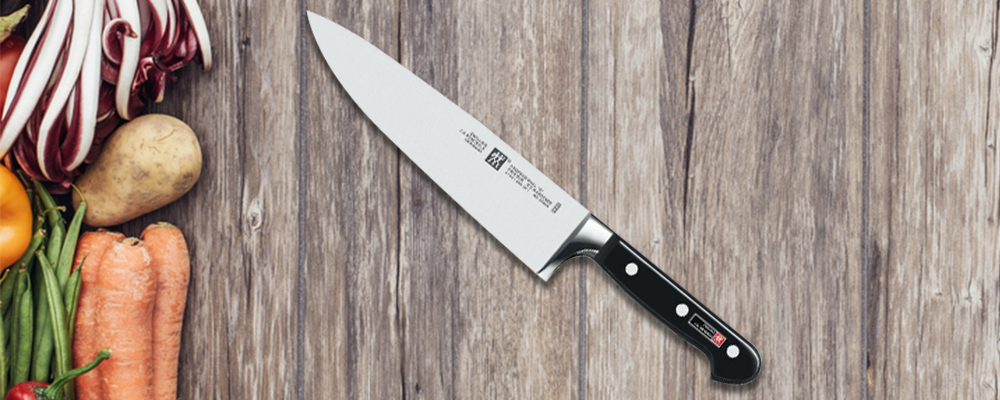 | Bolster | Handle | Manufacturing Method | Steel | Length (cm) | Length (inch) | Cost |
| --- | --- | --- | --- | --- | --- | --- |
| Full | Western, 3-rivet, full tang | Forged | Zwilling Special Formula Steel | 20 | 8 | |
This knife feels both exceptionally solid and also incredibly flexible. That is in part down to the Zwilling special formula steel made from just the right balance of chrome and carbon. This mix of steel is particularly resistant to corrosion, while the synthetic handle is as attractive as wood with the without the risk of warping. The blade and full tang are forged from a single piece of steel, giving the knife its robust quality.
If you like a long knife that makes short work of both vegetables and cut of meat, this dependable knife is for you.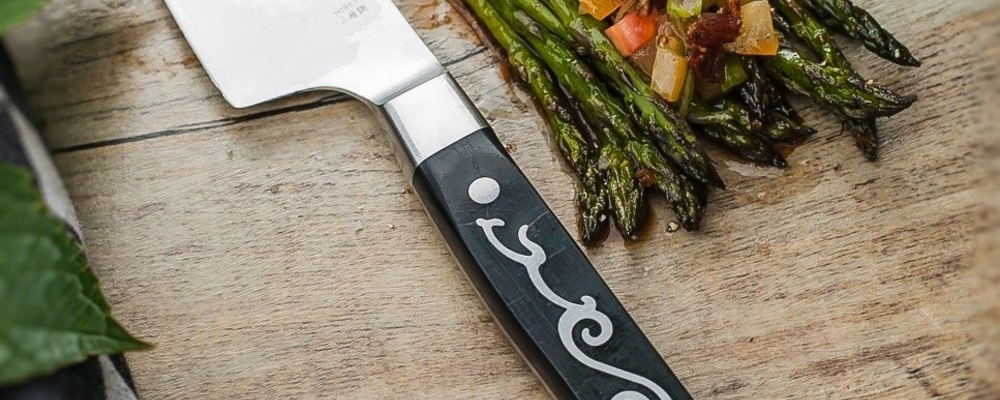 | Bolster | Handle | Manufacturing Method | Steel | Length (cm) | Length (inch) | Cost |
| --- | --- | --- | --- | --- | --- | --- |
| None | Unique Thai tang, hybrid style | Triplex steel technology | Japanese HRC62 steel and stainless steel | 11.5 | 4.5 | |
IO Shen knives are a unique blend of Japanese and Western styles. The blade is made up of hard Japanese steel sandwiched between softer stainless steel, allowing for a highly sharpened edge that remains protected from chipping. The handle is of a heavier, Western design feels firmer in the hand for those less delicate jobs.
The wide blade of the 11.5cm Khay Dee Deba Knife is suitable for cutting vegetable meat and fish, though hard bone should be avoided. It's perfect when you want a smaller knife to still carry a little heft. And the beautiful design is a great bonus.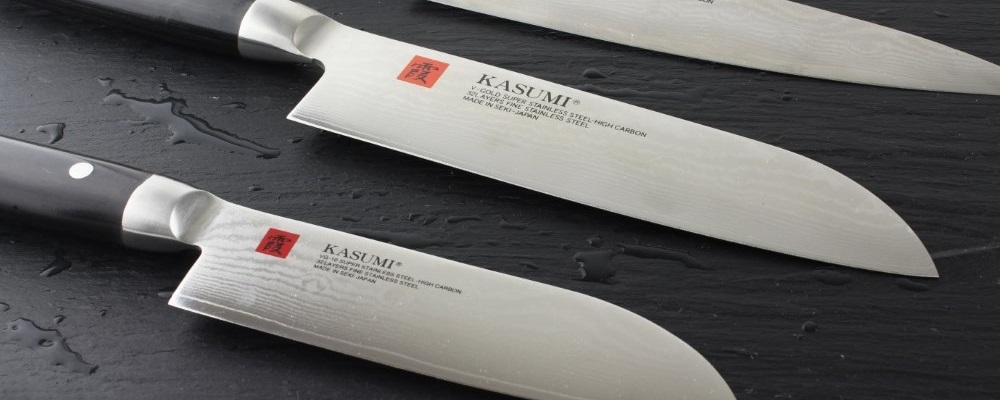 | Bolster | Handle | Manufacturing Method | Steel | Length (cm) | Length (inch) | Cost |
| --- | --- | --- | --- | --- | --- | --- |
| None | Japanese style, full tang, 2-rivet, ferrule | Forged | V-Gold No 10 high carbon stainless steel | 18 | 7 | £108 |
Made in Seki, one of the main centres of Japanese sword making, Kasumi knives follow many of the design features of a traditional Japanese knife. The blade comes without a bolster, while the handle is made from resin-impregnated layers of wood in the Japanese style of shape.
The steel is a V-Gold No. 10 high carbon stainless steel mix that includes cobalt, manganese, molybdenum and vanadium.
Unlike traditional Japanese blades, which are single bevelled (sharpened only on one side), this knife is double bevelled; however, the edge is ground to a 15 degree angle, making it particularly sharp.
The 18cm Japanese Chef's Knife feels pleasant in the hand, and is especially useful when you have some nimble cutting and slicing to perform. The weight of the blade gives you the confidence that it can cope with most jobs.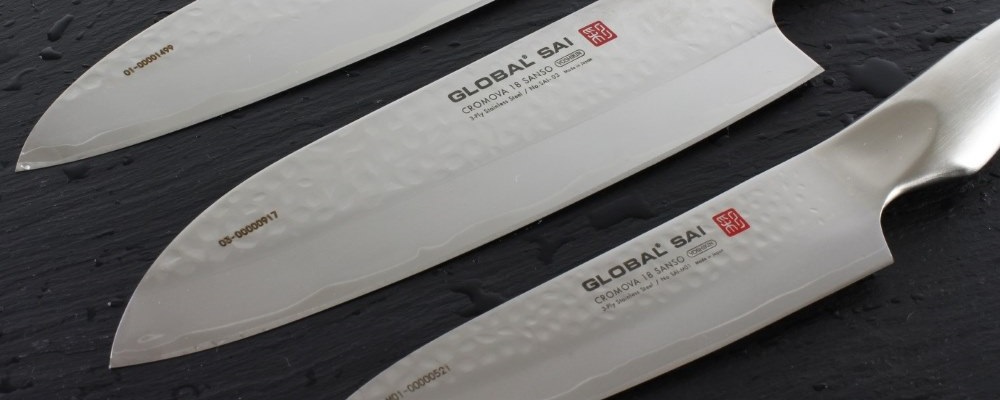 | Bolster | Handle | Manufacturing Method | Steel | Length (cm) | Length (inch) | Cost |
| --- | --- | --- | --- | --- | --- | --- |
| No | Unique Western | Stamped | Cromova stainless | 19 | 7.5 | |
These striking knives carry a unique design that is the result of 3-layer hammered finish. The handles are hollow and Western-shaped, producing a light knife that is well balanced.
The 19cm Sai series chef's knife is a classic all-rounder; its pointed end easily separate meat from the bone while the strong blade can deal with the toughest vegetable.
Light, balanced, robust and easy to care for, the Global SAI Series SAI - 01 Cook's Knife 19cm will be one knife that stays in your collection for a very long time.
For more information on knives, click on the links below:
19 October 2017