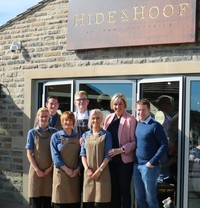 Case Study – working with a fellow family business on a smart new look for staff
When third generation farming business Yummy Yorkshire wanted professional workwear for staff at its new Hide & Hoof restaurant, we were delighted when they turned to us for help.
We were approached by owners Jeremy and Louise Holmes, who asked us for advice about good looking, practical workwear for their team of 30 staff.
One of the key reasons for their approach to us was our reputation for excellent service and value for money workwear. Yummy Yorkshire's co-founder and director, Jeremy Holmes, said: "Exceptional quality and outstanding customer service is what drives our business and we expect that from our suppliers too.
"It was apparent from the outset that Russums valued our business, and nothing was too much trouble. From advice about hard-wearing materials through embroidered samples of the Hide & Hoof logo to being able to try the work wear on for size, we were delighted at every stage."
Our sales and marketing manager, John-Paul Marsden worked with the Hide and Hoof team to choose a stylish and contemporary look: "Louise had seen a cross over apron whilst in Australia and knew that it was a look that she wanted to replicate at Hide and Hoof.

"For the waiting staff, we selected a smart, easy to wear chambray shirt, with a logo embroidered on the sleeve and teamed it with a khaki canvas cross over bib apron for a practical, on trend look. We kitted the chefs out in embroidered whites and branded charcoal aprons that look smart and are very practical."
Louise Holmes concluded: "The team love their new workwear. It looks great, is comfy to wear and washes well.
"We considered it a compliment when we were asked by a local catering business where we got our uniforms from."
Hide and Hoof restaurant's team of five chefs create farm fresh wholesome food using seasonal and locally sourced produce daily from 9am to 6pm. It also serves an A la Carte menu between 7 and 9pm every Saturday night.
Photo: The team at Hide & Hoof with John-Paul Marsden from Russums back left and Louise and Jeremy Holmes far right
16 August 2017