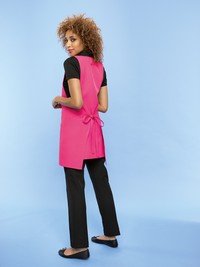 We've increased our range of stylish workwear with the launch of a hybrid tunic tabard
We have launched a range of stylish new tabards.
Designed specifically for catering and hospitality workers, the new polyester cotton hybrid wrap tunic tabards feature a centre pocket and are available in a range of colours, including on trend fuchsia pink and purple.
Thanks to the unique front and back ties, the tabards are not only very comfortable, but they are stylish too, says Val Parkin, one our Russum's team of machinists in our in-house sewing rooms. "This is the best workwear we've seen for ages."
Our Sales and Marketing Manager, John-Paul Marsden is delighted to supplement our extensive range of workwear with the new European style tabard: "The tunic tabard is a very clever rework of a classic tabard and it has been very well received here at Russum's and with our customers.
"The fact that it's smart, yet practical and can be embroidered to suit customers' needs makes it an ideal, value for money way to give your team a professional edge."
The tunic tabards are available in sizes small to extra large and cost £7.15. They are available to order online at tunic, by calling 01709 372345 or by visiting the showroom in Hope Street, Rotherham.
12 September 2017