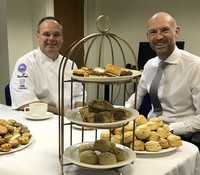 Thanks, David Wardle for an afternoon tea to remember
The team at Russums were treated to a special afternoon tea prepared by Doncaster-born event catering specialist and freelance chef, David Wardle as a thank you for our hard work over the busy summer period.
Summer is an extremely busy time of year for the company and the afternoon tea was a great way to show our appreciation whilst testing the new bird cage plate stand, Director Richard Russum said.
"We felt this was a great opportunity to reward the team after a busy summer and launch our afternoon tea birdcage stand – the pastries and savouries looked marvellous on it and I can vouch for how delicious they tasted.
"Thank you to David who, as expected, prepared an excellent spread for us."
The afternoon tea consisted of an assortment of sweet and savoury scones, quiche, sausage rolls, macarons, sweet bakes and eclairs.
David trained at Doncaster College before working as a pastry chef at The Grand Hotel in Eastbourne. He is now a freelance development chef for clients including Birds Eye, Dr. Oetker, JLA Group and MKN equipment.
"I have a fond association with Russums, as do many chefs who remember buying their first knife set from them. I bought my first knife set and chef's uniform from them 32 years ago," he said.
"It was really nice to be asked by Richard to create special treats to reward the team who do fantastic work all year round. I think they liked the fact that it was all homemade, and we even made free-from options for those who can't tolerate gluten."
The 37cm birdcage plate stand retails at £32.40 including VAT, and comes in an aged copper finish with space for three 23cm plates. For more information, visit birdcage stand
25 October 2017