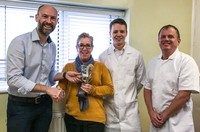 Our annual bake off raises £260 for Children in Need
Staff from all departments got involved with the annual Russums bake-off by baking, judging or buying the baked goods to raise a total of £260 for the national charity that supports disadvantaged children and young people in the UK.
The bake off took place on November 20 and was blind taste-tested and judged by Warehouse Manager, John Windle and Commercial Development Coordinator, Lewis Russell.
Entrants could submit bakes for either the cake and buns category or the mystery 'other' category and all entries were sold after the event to raise funds.
The overall winners were Della Scales, who works in the warehouse, with her double chocolate reindeer muffins and Brenda Rodger, from the sewing room, with her sausage rolls.
They each won a Russums trophy and were presented with their prizes by director Richard Russum who was beaten into second place for his shortbread biscuits following a controversial judging decision.
Web Systems Manager, Sara Atkinson, who organised the event for the fifth year said: "This year's entries were all really amazing and the judges said that they struggled to narrow the choices down.
"It was lovely to come together and raise money for a worthy cause, we all enjoyed eating the entries once they had been judged!
"We also ran a Children in Need raffle, for which everyone had donated prizes and we announced the winners of our
rubber
duck sweepstake after the results of Children in Need's 'Pudsey's Quacky Races'.
BBC Children in Need supports around half a million disadvantaged children and young people in the UK every year. The organisation is involved with more than 2,000 projects in communities across the UK and aims to help empower children and extend their life choices.
21 November 2017