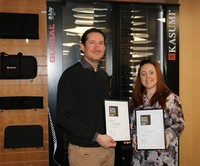 We've been awarded the Feefo gold trusted service award for the fourth consecutive year
We're delighted to report that we have won the prestigious Feefo Gold Service award for the fourth consecutive year.
Designed to recognise and reward businesses for delivering exceptional experiences, the Feefo Gold Service award is an independent seal of excellence that is based on verified customer reviews.
We met the criteria for the Gold Service Awards by collecting 395 reviews between January 1st 2017 and December 31st 2017, with an average Feefo rating of 4.8 out of 5 for both our customer service and our products.
Our Web Based System Manager, Sara Atkinson commented: "It's a real honour to receive this award for the fourth consecutive year. To be recognised for delivering exceptional experiences to our customers is a great achievement and testament to our hard working team.
"We strive to ensure that our customers always receive exceptional service and top quality products that are good value for money, so it's very rewarding to see that our customers appreciate what we do and take the time to review our service and products."
Some recent Feefo customer feedback includes:
"So helpful when I had to exchange an item .also anyone can order from this company I would give it ten star's thank you so much for all your help"
"Amazing quality and super-fast delivery service. Exceeds expectations every time!"
"Very prompt service, goods arrived within two days. Quality of items is first class"
Speaking on this year's award, Andrew Mabbutt, CEO at Feefo, commented: 'The Trusted Service award has always been about recognising those companies that go the extra mile. Once again, we have seen many incredible businesses using Feefo to its full potential, to provide truly memorable experiences for their customers – and rightly being awarded with our most prestigious accreditation. I look forward to the continual success of the businesses that work in partnership with Feefo throughout 2018.'
Feefo is a ratings and reviews, and customer analytics platform that provides the tools to collect genuine, purchase-verified reviews on behalf of over 4,000 businesses. Feefo ensures that all feedback is authentic, by matching it to a legitimate transaction, in order to increase consumer confidence and to combat the rising issue of fake reviews.
26 March 2018