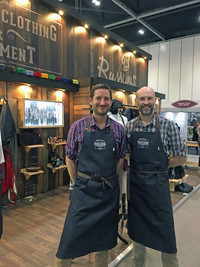 We're flying the flag for Yorkshire with our new Handmade in Yorkshire range
We're thrilled to announce that we have launched a 'Handmade in Yorkshire' brand to highlight workwear that is produced in our specialist sewing rooms at our Rotherham base.
The special 'Handmade in Yorkshire' tags are being applied to over 300 items of hospitality workwear including neckerchiefs, skull caps, cotton and poly cotton waist and bib aprons and a new range of PVC bib aprons in both adult and children's sizes.
Our Sales and Marketing Manager and proud Yorkshireman John-Paul Marsden is delighted with the new branding that was previewed at Hotelympia recently: "There isn't much British made workwear these days and we wanted to showcase the great work that our sewing team turn out by creating a Handmade in Yorkshire tag.
"The range was very well received at Hotelympia, with one prospective customer expressing interest as she was opening a Yorkshire Pudding Wrap business in London and wanted to reflect the provenance of the pudding with Yorkshire made workwear!
"Having an in house facility also gives us the ability to supply on demand and cut lead times" he concluded.
Pictured are John Paul Marsden and Richard Russum wearing Handmade in Yorkshire aprons.
8 May 2018