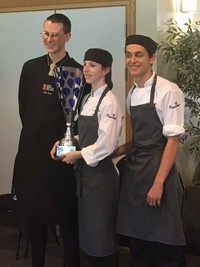 We're proud to support the Passion to Inspire competition for the ninth time
Although we have been supplying clothing and equipment to the hospitality and catering industry for over 50 years, we never cease to be amazed by the passion with which the next generation of chefs create dishes that belie the students' relative inexperience in a professional kitchen.
Recently, we were privileged to be present at the final of the annual 'Passion to Inspire' competition in our capacity as a supporter of the event. 'Passion to Inspire' is an amazing, non-profit making, voluntary initiative founded by Murray Chapman that was initially developed to bring education and industry closer together - to help and support 'the future of tomorrow, today'. The initial format was a competition, but with a fun and supportive element, to nurture, encourage and support students, and give them belief in, and a passion for, their chosen career. The competitions are open to all students at any level and on any course, including Front of House and kitchen.
This year's 'Passion to Inspire' competition was a closely fought battle, with the team from West Suffolk College - chefs Crystal Newton and Alex Cornwell, FOH Will Shinn, lecturer Stuart Ascott and mentor James Carn from The Angel Hotel, Bury St. Edmunds taking the honours and winning the Grand Prize of four places at the upcoming Skills for Chefs Conference in Sheffield featuring Raymond Blanc, John Williams and Chantelle Nicholson.
The winning menu was a visual feast of Tempura of Lock Duart Salmon belly with lime, grapefruit, soy, peanut & avocado; Creedy Carver duck breast, duck fat pomme Anna, kibbeh, wild garlic, peas, broad beans, white asparagus and dukkah followed by Apple Tarte Tatin and vanilla and Calvados ice cream.
Earlier this year the colleges involved each held in-house heats, with the winning team progressing to the final. Each team consisted of three members – two in the kitchen and one front of house. A few weeks ago, the last four remaining teams were invited to an Upskill day at Infusions4Chefs with renowned celebrity chef Cyrus Todiwala OBE, a regular on BBC One's Saturday Kitchen, who also cooked for HM The Queen on her Diamond Jubilee Tour. The students spent three hours learning a variety of skills with spices and the importance of good quality ingredients, to inspire them ahead of the finals held at Cambridge Regional College.
The teams were judged on their costings, cooking skills, food presentation, table designs, front-of house skills and the guests' overall experience. The competition encourages students to learn new skills and post-competition each team was given constructive feedback directly from the judges.
We were proud to support the competition for the ninth year by supplying jackets for the chefs and aprons for the front of house finalists from each of The College of West Anglia, Colchester Institute, Cambridge Regional College and West Suffolk College and never cease to be amazed by the calibre of chefs that colleges like these are nurturing.
A 'Passion to Inspire' has raised over £200k for charities since it started and all of the partners who are involved in the competition do so in a not-for-profit capacity. We're proud to play a part in Murray's great work and hope that it continues for many years to come.
6 June 2018