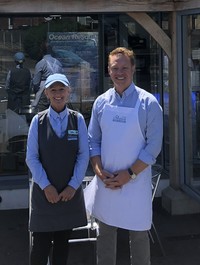 Yorkshire family businesses work together on smart new look for staff
As a sixth generation family business, we love it when we're approached by fellow family businesses for professional workwear for their teams.
We were recently approached by Mike Shaw from Shaws Fish and Chips of Dodworth and were asked for our advice about good looking, practical workwear for his team.
Our sales and marketing manager, John-Paul Marsden worked with Mike to choose a stylish, contemporary look that was practical for use with hot fat: "We chose a smart, easy to wear chambray shirt with a dark grey tunic tabard wrap for the serving staff and white aprons for the fryers. Everything was hand made in our Yorkshire sewing rooms and was finished off with an embroidered logo."
Our reputation or quality products and our personal approach was one of the key reasons that Mike approached us: "Quality ingredients and outstanding customer service is what drives our business and we expect that from our suppliers too.
"We are so committed to sourcing the best quality ingredients that we regularly travel to Iceland to visit the trawlers that we buy our fish from, and it's important to us that the staff work wear looks as good as our fish and chips taste."
Mike concluded: "We're delighted with the bespoke uniforms that Russums made for us. Nothing was too much trouble and John-Paul went out of his way to make sure that everything fitted perfectly and that the team were happy."
Shaws Fish and Chips was the first business in South Yorkshire to sign up for the MSC Fisheries Standard that guarantees that Shaws only ever serve certified sustainable fish and chips. Shaws' environmental credentials include the use of sugar cane husk take away boxes and the creation of an 'Ocean Rescue' poster that charts what the team is doing to reduce single plastic usage. It is also committed to promoting locally sourced produce and works with local suppliers including Yummy Yorkshire and Cannon Hall Farm Shop.
Shaws was established by Mike's father in 1979 after he left the Navy and was looking for a way to support his young family. After working in a fish and chip shop for a while, he concluded that he could do a better job that his employer and borrowed £500 to buy the original shop and set up a premium quality fish and chip shop. Mike moved to the new shop on Barnsley Road in 2015 and had to build a porch at the front of the shop to protect the people who queue out of the door in inclement weather!
Pictured are Manager, Julie Shaw and owner, Mike Shaw
3 July 2018