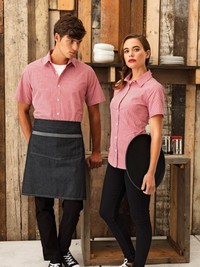 First impressions count - making a difference with workwear that gets noticed
When you consider that your front of house team may be the first personal (as opposed to digital) experience that a prospective diner may have with your restaurant, making sure that they look the part is critical.
Choosing workwear
Corporate workwear is a cost effective and easy to implement way to reflect your brand identity and differentiate your business in the very competitive hospitality market. Your choice of workwear will depend on many variables including the style of your business – premium casual or fine dining - the type of food you serve and also, who will be responsible for the maintenance and upkeep of the workwear – you, your staff or a commercial laundry?
Practicality
Irrespective of whether you are investing in workwear for front of house or the kitchen, clothing and footwear must be hygienic, safe, comfortable, practical and durable. Recent innovations in workwear have resulted in clothing made from durable, stain-resistant fabrics that stay smart for the duration of a shift. Workwear suppliers can advise on the best choice of fabric for each staff member and can discuss the pros and cons of natural fabrics like cotton, or blends like polycotton that is easy to wash and wear and holds its shape well.
Current Trends
The premiumisation of casual dining has resulted in a growing number of on-trend uniforms featuring fashionable check shirts, long sleeved tees in super-soft fabrics, jeans, chinos, Converse style slip resistant trainers and artisan aprons.
John-Paul Marsden from hospitality clothing and equipment specialist, Russums is excited about the opportunities for this new look: "This 'urban vintage vibe' range is a cost effective way to give your team a contemporary look that's comfortable to wear, easy to keep looking good and gives you a good return on your investment."
Bespoke advice
Russums were approached by Jeremy and Louise Holmes from the Hide and Hoof restaurant in Huddersfield who asked for advice about good looking, practical workwear for their team of 30 staff. Louise Holmes said:
"Russums gave us valuable advice about what materials were best for front of house and the kitchen, provided samples for the team to try for size and gave us embroidered samples of the Hide and Hoof logo so that we could see what it would look like on clothing.
"For the waiting staff, we selected a smart, easy to wear chambray shirt, with a logo embroidered on the sleeve and teamed it with a khaki canvas cross over bib apron for a practical, on-trend look. We kitted the chefs out in embroidered whites and branded charcoal aprons that look smart and suit their needs perfectly."
A sense of belonging
For the team, wearing great-looking, comfortable, on-trend workwear helps to make them feel valued, reinforces cameraderie, helps to boost morale and makes them feel better connected to their colleagues. Ultimately, it fosters a sense of unity with a subsequent positive effect on productivity.
Professional workwear is a cost effective, easy to implement way to showcase your brand, make your team feel great and make you stand out from the crowd.
2 August 2018