UK mainland Carriage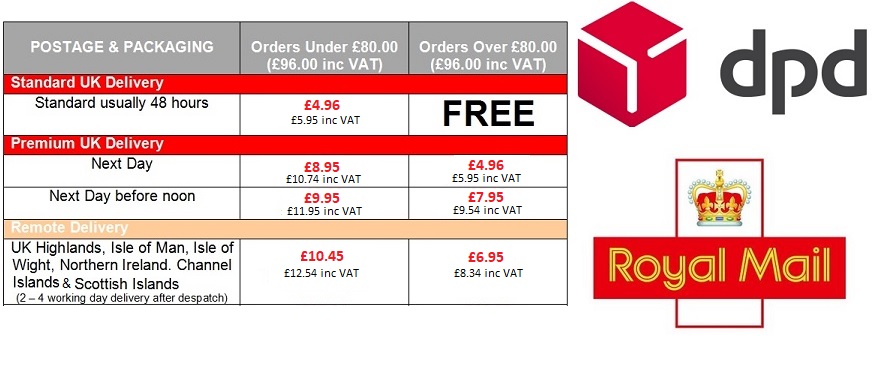 Next Day pre 12 Delivery
Next Day Delivery orders must be received before 3pm, Monday to Friday for next working day pre 12.00 delivery. Working days are Mon-Fri (excluding Bank Holidays) and deliveries are only available in our standard delivery area.
Next day delivery refers to the carriage service used to despatch the goods. If goods are 'in stock' we will endeavour to deliver them on the next working day, however choosing next day delivery does not guarantee you will receive them the working day after you order.
Orders received on a Friday for next day delivery will be despatched Friday for delivery on Monday (excluding Bank Holidays).

Items with extended despatch times aren't available for next day pre 12 delivery, please check the despatch time for each item before choosing next day pre 12 delivery.
Please note that during exceptionally busy periods our next day delivery service may not be available.
Every effort is made to ensure that goods are delivered on time, although delivery times are given without obligation or guarantee due to the reliance on a third party carrier.
Delivery of bulky, fragile or heavy items
For very small/lightweight orders, please contact us for advice on carriage charges. Unfortunately, we are unable to ship glassware internationally. For bulky, fragile or heavy orders, and for deliveries to off shore and remote areas including Northern Ireland, Scottish Highlands, Island and outside the UK mainland, there may be an additional delivery charge. We may contact you to advise of any additional charges due. Please allow 3-5 working days for delivery after despatch to remote areas. We are unable to ship glassware internationally.
Worldwide carriage and packing
We will be pleased to ship goods to any country and have many customers worldwide. We do not ship any bladed items to countries outside of the UK (e.g knives, scissors)
For most of Europe we have negotiated very low shipping costs, simply call us for further help and information on 01709 372345.
Import duties, taxes and restrictions
If your goods from our site require international shipping, you may be subject to import duties, taxes and restrictions which are applied when the goods reach that destination. Please note we have no control over these import charges and cannot predict their amount. You will be responsible for payment of any such import duties and taxes. Russums is not responsible for any import restrictions which prevent the goods from being delivered to you and accepts no responsibility for loss caused to you by the goods being withheld or returned to us. Please contact your local customs offer for further information before placing your order.

Delivery Schedule
We would normally send your order to you in 2-3 working days and will contact you if there is likely to be a delay. Please allow 7 - 14 days for international orders