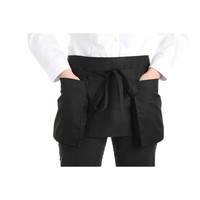 As a business undergraduate at on a work placement at Russums, I wanted to find out what makes certain products successful. Price? Quality? Value for money? Probably a mixture of all of the above.
I noticed that the wide range of aprons available sold excellently. I wanted to find out why aprons from Russums are so successful and why customers are happy with what they were buying. I also wanted to find out what goes into making, what could be, the best aprons on the market.
An apron to suit every need
Russums understands the importance of quality and value for money, as well as supplying a wide variety of aprons designed to suite different tasks. Whether you require a stylish waist apron to complement your front of house uniform, or something more durable for manual tasks in and around the kitchen, Russums have the apron for you.
In order to prove this, I spoke to the experienced and knowledgeable staff in the sewing department, who produce the aprons every day, about what goes into making Russums aprons:
"Our Rotherham made aprons are fully handmade from UK sourced material. The anti-tangle waist tapes are reinforced by double stitching in order to make our aprons stronger and more hard-wearing. We can also make alterations tailored to each individual customers needs. There is also no need to use bar tack stitching on any of our aprons as they are already incredibly durable, so they maintain a smarter look."
"What makes Russums aprons stand out from the rest is that they all have a deep hem in order to make them longer lasting. We don't compromise on quality by having a smaller fold in order to save money, making Russums aprons a lot tougher and more resistant to damage".
"Due to the fact that they are made in-house, the quality is very consistent as they are all monitored and inspected before sale. They also contain high quality stitching using our state of the art machines and sizes can be easily altered or made to order to fit every shape and size".
"Many of our aprons include added extras, such as pen pockets and holders which make tasks a lot more easy and efficient as you are able to easily locate a pen when needed and carry out other tasks at the same time. The easy fastening adjustable straps and waistband also make the fit suite every individual."
What do people who wear them every day say?
"Having experience of wearing the company's aprons over the years they wash incredibly well and don't shrink or lose colour in the wash like some others have a tendency to do. The tapes are also excellent quality, so avoid losing their shape. The fabric itself is also incredibly easy to iron".
"Mobility is very important when cleaning, as we need to be able to stretch and turn easily while also needing to be robust and offer good protection to clothes. The tunics that we wear are excellent for this".
From Experience
From previous experience of working in catering, I know how important it is to have a good quality apron that is up to the job. If you shop around, you may be able to find a slightly cheaper apron for sale, however one of the key beliefs at Russums is offering clothing that is the best value for money. This means aprons, will last a lot longer and not have to be replaced as often.
There is an increasing trend in restaurants heading towards kitting all of their staff out to get a more consistent look across the whole company. The apron is often the statement piece of an outfit. Russums have incredibly stylish ranges including workwear, statement denim and crossover bib aprons that have been released this year. All aprons are suitable for bespoke embroidery and company logos and text can be easily added tailored to the customer's specification.
Aprons from Russums - what customers say:
"Highly recommend these aprons, as always fantastic quality, beautifully made to last. The length was perfect, practical pocket washes well, have used this product before. Fast delivery as always, love this product!"
"These aprons are excellent value and wash really well. No need to iron. The quality of the embroidery was excellent too, and also very reasonable. Speedy delivery and lovely telephone help."
"Very good quality, easy to wash, light and beautiful! Excellent service and delivery!"
"Really good quality aprons, with a nice length for the actual ties. Wash really well! Nice quality and very good value."
"We are all really happy with these very classy looking aprons. They wash well and are very good value for money. Our previous aprons were purchased from Russums two years ago and only now needed to be replaced. Thank you."
To view Russums wide range of aprons and find the best choice for you or your business click here-
www.russums-shop.co.uk/c/q/clothing/aprons.
You can also request a FREE 2017 Russums Catalogue here- www.russums-shop.co.uk/catalogue-request
*All customer reviews are submitted to Feefo, a trusted independent rating and review supplier.
14 August 2017