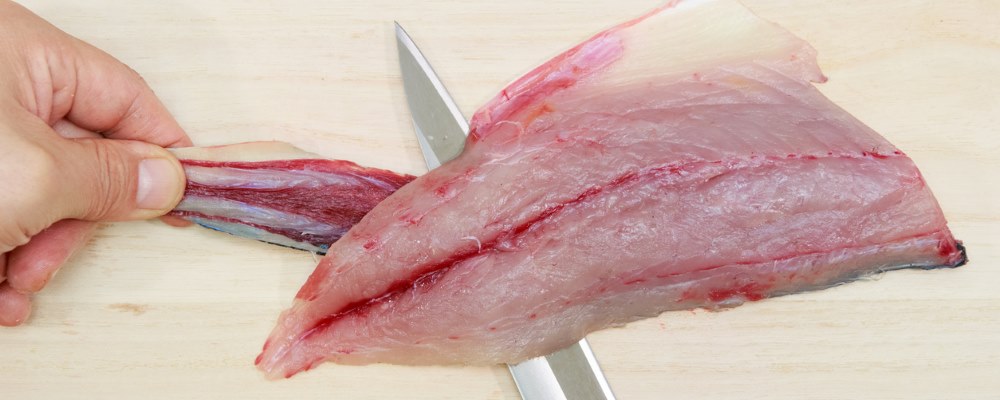 Click on the links below to jump to the relevant sections:
A filleting knife is needed to perform three tasks with fish:
Filleting
Skinning
De-boning
The blade needs to be thin and flexible enough to easily separate meat from the bone without wastage, but strong enough to cut through small bones.
Handles
Filleting a fish can be a messy process. This presents certain dangers, as a slippery knife affects a chef's control; something you don't want when wielding an extremely sharp blade. For this reason, the type of handle you choose can be very important.
Handles generally fall into four types:
Wooden
Plastic
Rubber
Pitted metal
The following table looks at the pros and cons of each material:
| | | | | |
| --- | --- | --- | --- | --- |
| | Wooden | Plastic | Rubber | Pitted metal |
| Grip | Prone to becoming slippery | Less slippery than wood, but still an issue | Holds firm in the hand with the least chance of slippage | Pitted surface does impart some grip, though not as secure as rubber |
| Smell | Low quality wooden handles can soak up the smell of fish over time | Less likely than wood to soak up smells, though certain odours can be retained in the seams | Can retain some odour, though lack of seams makes knife easier to clean | Retains no odour, easy to clean |
| Colour coding | Difficult to colour code | Can be produced in different colours to indicate if they should only be used for raw fish | Can be produced in different colours to indicate if they should only be used for raw fish | Less likely to come with colour coding |
Price Guides
A decent filleting knife costs around £20 but you can expect to pay around £100 for longer knives or those made by certain manufacturers. For example, the Shun filleting knives by Kai cost over £80; however, they are an excellent investment and will last a lifetime, even if they're being used daily. For a quality, sharp and durable knife at a reasonable price, the Victorinox Fibrox range come in at less than £15 and will be a superb addition to a home or professional kitchen.
Below are some of the best filleting knives for your kitchen:
| | | | |
| --- | --- | --- | --- |
| Image | Knife | Description | Cost |
| | | This Japanese-made filleting knife has enough flexibility to maximise the meat removed from the fish with minimum wastage. The D-shaped handle is made from PakkaWood which is moisture resistant and offers an excellent grip. The blade is made by folding layers of steel on top of a VG-10 super steel core and the full tang of the blade offers excellent balance in the hand. | |
| | | The flexible, narrow and super sharp blade of this classic Wusthof knife makes precision filleting easy. The knife features a full tang blade and full bolster for the ideal level of balance and protection. The handle is manufactured from polyoxymethylene, a durable material which can withstand fading and discolouration and provides a comfortable grip. | |
| | | The comfortable Fibrox non-slip handle maintains its grip even when wet and covered in fish scales. The flexible sharp blade glides through fish to remove the flesh cleanly from the bone and minimise wastage. This knife is also available in 18cm measurement for filleting larger fish. | |
Sets
Filleting knives are an essential kitchen tool and many of them can also double up as boning knives (provided they are not actually used to cut through bone) so they are usually included in knife sets. There are a number of high quality knife sets which include filleting knives that are available from Russums.
Below are price options for knife sets for every budget. These sets all contain five essential knives, including a filleting knife:
Set

Set Image

Contents

Case

Cost

Smithfield Knife Set Medium With 20cm Deep Cooks Knife In KC210 Case

Smithfield 8cm Paring Knife

Peeler

Palette Knife

Smithfield 15cm Filleting Knife

Smithfield 20cm Deep Blade Cooks Knife

Knife Case Heavy Duty 16 Piece

Sabatier Knife Set Medium With 15cm Filleting Knife In Cotton Wallet

Peeler

Giesser Paring Knife

Palette Knife

Sabatier Flexible Slicer

Sabatier Cooks Knife

Wusthof Classic & Gormet Roll Knife Set With 16cm Gourmet filleting knife and knife roll

Steel 26cm

Classic Cooks Knife 23cm

Gourmet Pastry Knife 26cm

Gourmet Filleting Knife 16cm

Gourmet Paring Knife 10cm
Expert Tips
Fillet knives are available in sizes from 10cm – 23cm and the size you need will depend on what type of fish you're filleting. Longer blades are best for filleting larger fish such as salmon, but a standard size blade of 20cm will fillet the average size fish.
Invest in a pair of fish tweezers to remove pin bones from the fish and scissors to remove the fins.
Fillet knives can be used for both fresh and saltwater fish but are not normally used in preparing sushi as sushi or sashimi knives are used for this task.
Filleting fish is a skill that most chefs learn early on in their career, but one that always benefits from repeated practise. With the large variety of fish on offer, it is easy to get out of the habit, both in the filleting and cooking of specific fish. The following are some handy prompts to refresh your filleting knowledge.

How to sharpen a filleting knife
Filleting knives can be slightly tricky to sharpen due to their unusual shape and flexible blade. The three main methods that can be used to sharpen a filleting knife are the same as those used to sharpen any kitchen knife:
However, the more delicate nature of many filleting knives means both tabletop sharpeners and grinding wheel will have a tendency to remove a lot of the material that makes up the blades, reducing the lifespan of you knife considerably.
It is recommended that you use a whet stone to sharpen your filleting knife. This allows for more control when sharpening and will avoid the loss of too much blade material.
Some steels can be used for sharpen as well as honing. However, it is sometimes difficult to achieve the level sharpness that is required for filleting a fish.
Filleting facts
Gills are a breeding ground for bacteria. Remove them to keep the fish fresher for longer.
There are no pin bones contained in the fillets of flatfish.
There are generally only two types of filleting knife: Scandinavian style and Japanese style.

Scandinavian — flexible blades, with a mildly curved, pointed end. Both sides of the blade are ground. Lengths can vary.
Japanese — long, even-width blade ending with a curve of around 45%. Less flexible but very sharp due to the grind on one side only.
However, over the years, knife makers have attempted to blend these two styles to create a hybrid style that contains elements of each.
Some jobs usually performed using a filleting knife can be accomplished more easily with a good pair of kitchen scissors. Jobs include gutting small fish, sectioning squid, removing fins or opening up a lobster.
Spatchcocking involves removing fish bones by gently pulling away the intact skeleton, rather than cutting off portions of the flesh. This technique is used on smaller fish like sardines.
Fish Availability
(Source: Seafish, a UK non-departmental public body)
Name of fish

Shape

Found in

Oil content

Flavour

Mostly available

Anchovies

Round

Warmwater

High

Strong/earthy

All year (in preserved form)

Brill

Flat

Coldwater

Low

Moderate

March–Sept

Cod

Round

Coldwater

Low

Moderate/sweet

March–May,

Sept—Oct

Flounder

Flat

Coldwater

Medium

Mild/sweet

June–Sept

Haddock

Round

Coldwater

Low

Moderate/sweet

Feb–March, August–Oct

Halibut

Flat

Coldwater

Medium

Moderate

All year

Herring

Round

Coldwater

High

Strong/earthy

July–Sept

Mackerel

Round

Coldwater

High

Strong/earthy

June–Sept

Monkfish

Unusual

Coldwater

Low

Strong/sweet

April–Sept

Red Mullet

Round

Warmwater

Low

Strong/sweet/earthy

June–Sept

Red Snapper

Round

Warmwater

Low/medium

Moderate/strong/sweet

March–Sept

Salmon (Pacific, Keta, Silver, Pink, Red, King)

Round

Cold/freshwater

High

Moderate

All year (farmed), Feb–Aug (Atlantic), May–Aug (all other)

Sea Bass

Round

Warmwater

Medium

Moderate/sweet

All year (farmed), Nov–March (Wild)

Sea Bream

Round

Warmwater

Medium

Mild/sweet

All year

Trout (Brown, Rainbow)

Round

Freshwater

High

Moderate/ sweet earthy

All year

Tuna

Round

Warmwater

High

Strong/earthy

Sept–Feb
Related Products
Fish Bone Tweezers for removing pin bones when filleting fish.
Granton Salmon Knife for cutting thin slices of salmon.
Kasumi Sashimi Knife for preparing thin slices of fish to be used in sushi.
15 June 2016