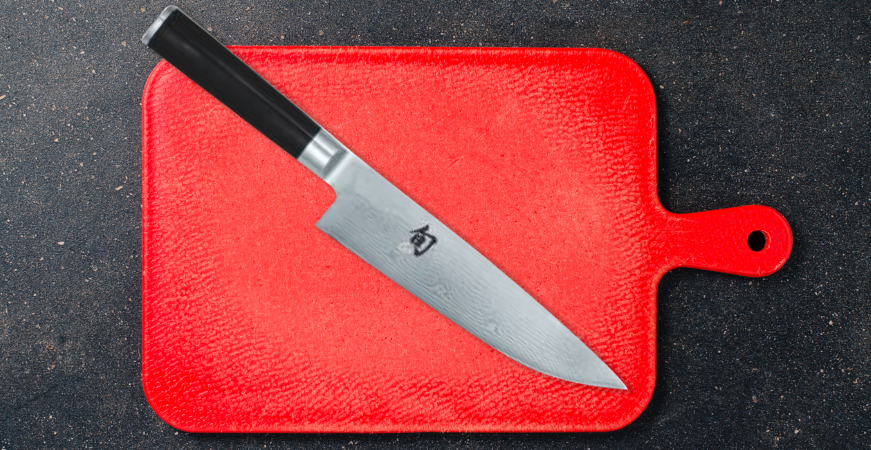 How do you sharpen Shun knives?
The manufacturer of the Shun knife range — Kai — suggests sharpening Shun knives in one of three ways:
Using a whet stone
With a table top sharpener that accommodates the 16% bevel found on most Shun blades
Sending the knife away to be sharpened professionally
Some Shun knives are single bevelled and therefore should not be sharpened using a table top sharpener. To found out more about the best ways to sharpen a knife, click here.
Where are Shun knives made?
Shun knives are made in Japan using age-old Japanese knife-making techniques. They are produced in one of Japan's traditional samurai sword-making centres, the city of Seki.
Are Shun knives good for a professional kitchen?
Professional chefs enjoy using Shun knives due to their combination of sharpness and lightness. Manufactured in one of Japan's knife-making capitals, Seki, the Shun Classic range is crafted using 36 layers of Damascus steel surrounding a hard VG-MAX steel core. The Pakkawood D-shaped handles are similar but slightly different to the traditional Japanese style, which many chefs find easy to use for quick and delicate preparation techniques. The composite material is strong and largely waterproof.
How do you hone Shun knives?
The best way to hone a Shun knife is to use a honing steel. Honing is distinct from sharpening; sharpening removes material from the blade to create a new (sharp edge) while honing simply aligns the microscopic shards of metal that becoming jagged and 'off-centre' through repeated use of the knife.
For more information on how to hone a blade, click here.
Who makes Shun knives?
Shun knives are made by the Kai USA Ltd, a US-based company which is part of the Japanese-run Kai Group.
How are Shun knives made?
Some ranges of Shun knives are made using hard steel core surrounded by softer steel. This softer steel jacket protects the central steel while allowing the blade to be sharpened to a high degree, a sharpness that holds for long. Both the 'kasumi' and 'san mai' styles use this method.
Other methods involve forging the blade from a single piece of steel. This is the 'honyaki' style.
The classical range sold by Russums is made from high-performance VG-MAX steel surrounded by Damascus stainless steel. The blade is then ground and bead-blasted to produce their famously sharp edge and attractive flowing pattern.
Are Shun knives dishwasher-safe?
You can use a dishwasher to clean Shun knives but it is strongly recommended that you DO NOT. Knives can get knocked in a dishwasher, losing their sharpness and increasing the risk of chipping. The harsh cleaning detergent used with some dishwashers also risks corroding the blade, while quality knives should not be left in water for any length of time as this could result in spotting and discolouration.
How do you pronounce 'Shun' knives?
Phonetically it would be written 'shoon' to rhyme with 'moon'.
Where is the best place to get Shun knives sharpened?
To guarantee that your knife is sharpened to your exact specifications it is best to undertake the sharpening yourself using a whetstone. However, if you run a kitchen and are looking to sharpen multiple knives at once, professional knife sharpeners are available. Click on the following link to find a professional knife sharpening service near you.
Are Shun knives forged?
Some ranges of Shun knives are made using forging techniques while others are produced from a single piece of steel which is then ground and sharpened — a blade type known as 'stamped'. Shun's Blue Steel line is made using the forging technique. Shen's Classic Pro range is stamped.
5 September 2017