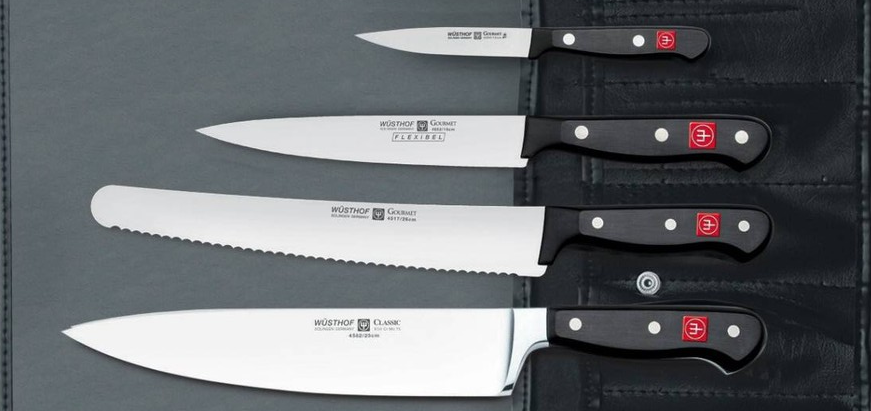 Click on the links below to jump to the relevant questions:
Are Wusthof knives good?
Wusthof knives are one well known for their high quality and pedigree; this style of knife has been made in Solingen, Germany since 1814.
Most lines of Wusthof knives are made using the traditional forging technique. This makes them strong, durable and easy to sharpen to a high degree. The majority of knives are also sharpened to 14 degrees (rather than the standard 22 degrees found on most German knives), making them particularly sharp.
How do you sharpen Wusthof classic knives?
It is recommended that you hone every knife before use. This will keep your blade at its keenest and reduce the need for sharpening, which will result in a degree of lost material from the blade.
For the best sharpening results, use a whetstone. For more information on how to sharpen a knife, click here.
Which Wusthof knives are the best?
Many knife experts argue that forged knives have more advantages than stamped knives.
This is because it was generally true in the past that the metal is harder due to the forging process, which 'realigns' the molecules of the steel in the blade, creating a harder blade and an edge that stays sharp for longer.
However, due to advances in modern manufacturing techniques, these advantages have been all but eradicated.
The following table showcases some of the best Wusthof knives on offer at Russums:
| Image | Knife | Range/Description | Cost* |
| --- | --- | --- | --- |
| | | Classic — All knives from the classic range are drop forged. This archetypal chef's knife comes with a heavy blade, full bolster and classic three-rivet black polypropylene handle. | |
| | | Gourmet — The Gourmet range is laser cut from a single of Chrome Molybdenum Vanadium steel. It has the advantage of being durable while also less expensive than other Wusthof ranges. | |
| | | Classic — This thin, Japanese-style blade is perfect for chopping vegetables. Many chefs go on to adopt it as their main kitchen knife. | |
| | | Classic — This solid little paring knife with full tang and bolster is perfect for all those small jobs and invaluable in any professional kitchen. | |
| | | Silverpoint — The Silverpoint Slicing Knife is an inexpensive option for cutting larger cuts of meat, along with many vegetables. | |
*Excluding VAT
How much is a set of Wusthof knives?
There are a number of Wusthof knife sets available from Russums. Look at the following table to see what's on offer:
Image

Set

Contents

Case

Cost*

20cm Grand Prix II cooks knife
20cm Grand Prix II carving knife
16cm Silverpoint filleting knife
2 x larding needles trussing needle
9cm Silverpoint decorating knife
8cm Silverpoint paring knife
6cm Silverpoint peeling knife
Silverpoint apple corer
Silverpoint melon baller 22mm / 25mm
Silverpoint decorator
Silverpoint lemon zester
26cm sharpening steel
29cm Silverpoint salmon slicer
26cm Silverpoint pastry knife
25cm Silverpoint palette knife
14cm Silverpoint boning knife
16cm Silverpoint kitchen fork

32cm sharpening steel
26cm Classic super slicer
32cm Classic salmon slicer
26cm Gourmet palette knife
18cm Classic straight meat fork
11cm Classic decorating knife
10cm Classic paring knife
7cm Classic trimming knife
7cm Classic peeling knife
Fishbone pliers
Kitchen shears
Larding needle with flap
Larding needle
Trussing needle
18cm cleaver
26cm Classic cooks knife
20cm Classic cooks knife
23cm Classic carving knife
23cm Bread knife
18cm Classic filleting knife
14cm Classic boning knife
Silverpoint decorator
Silverpoint lemon zester
Silverpoint apple corer
Silverpoint melon baller, 2.2/2.5cm

20cm Classic cooks knife
23cm Classic carver
16cm Classic filleter
16cm carving fork
Gourmet 14cm boning knife
Gourmet 26cm pastry knife
Salmon slicer
Gourmet utility knife
26cm steel
2 x larding needles
Trussing needle
Zester
Decorator
Apple corer
Melon baller
Peeler
Palette knife
Decorating knife

Sturdy lockable aluminium magnetic case

23cm sharpening steel
20cm cooks knife
23cm pastry knife
14cm boning knife
12cm utility knife
6cm peeling knife

Durable wipe clean roll

26cm steel
23cm Silverpoint cooks knife
23cm Silverpoint pastry knife
16cm Silverpoint filleting knife
8cm Silverpoint paring knife

Wusthof knife roll

26cm steel
23cm Classic cooks knife
26cm Gourmet pastry knife
16cm Gourmet filleting knife
10cm Gourmet paring knife

Wusthof knife roll
*Excluding VAT
5 September 2017