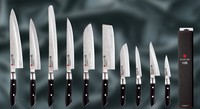 We've increased our range of performance knives with the launch of the Kasumi HM Hammered series
We have consolidated our position as a key supplier of specialist chefs' knives with the launch of the Kasumi HM Hammered range.
Suitable for both right and left handed users, the Kasumi HM Hammered knives are made from VG10 cobalt high carbon stainless steel, a speciality steel that has been developed specifically for cutting edge blades.
The knife blades are hardened to Rockwell C59 – 60 degrees and feature a distinctive hammer pattern on both sides that serve both to strengthen the blade and to reduce friction and sticking when cutting. The polyacetal resin (POM) handle features a double rivet for strength and an extended bolster to maintain perfect balance.
Our Sales and Marketing Manager, John-Paul Marsden is delighted to introduce the state of the art knives to our extensive range of knives: "Kasumi knives are made in the same way that traditional Japanese swords are crafted. A steel ingot is folded and forged repeatedly to create fine layers, the centre two made from high carbon stainless steel.
"The HM series features the very latest technical materials and are stunning knives that are perfectly designed for cutting and slicing."
The range is manufactured by craftsmen in Seki, the historic capital of the Japanese cutlery industry and comprises 10 products, including paring, chefs', boning and Santoku knives. The knives are available to order online at www.russums.co.uk, by calling 01709 372345 or by visiting our showroom in Hope Street, Rotherham.
25 July 2017