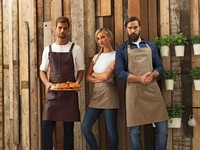 We lead the way with extensive new range of hospitality wear for 2018
We're looking forward to showcasing our extensive new range of hospitality wear when we head to London for the Foodservice Show at Hotelympia on 5th March.
In response to feedback from customers following the growing trend towards casual dining, we have significantly increased our hospitality wear range with the launch of a range of on trend uniforms featuring shirts, chinos, aprons and shoes.
Items of workwear include fashionable check shirts, long sleeved tees in super-soft fabrics, jeans, chinos, Converse style slip resistant trainers and artisan aprons.
Our Sales and Marketing Manager, John-Paul Marsden is delighted with the new range of hospitality wear solutions for 2018: "The urban vintage vibe range is a great, cost effective way to give your team a contemporary look that's comfortable to wear, easy to keep looking good and gives you a good return on your investment."
We will also launch our new 'Handmade in Yorkshire' brand at Hotelympia. This branding will highlight workwear that is produced in our sewing rooms in Rotherham, South Yorkshire. The range comprises cotton and poly cotton waist and bib aprons and a new range of PVC bib aprons in both adult and children's sizes.
Look out for the Russums team, who will all be wearing items from the new ranges, on Stand 3828 in the Foodservice show at Hotelympia from 5th to 8th March. We look forward to seeing you!
Hotelympia is the UK's market leading hospitality and foodservice event that has been at the forefront of hospitality innovation for over 80 years.
6 February 2018