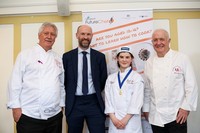 We're really proud of all of the relationships that we have built up with our customers, but perhaps the most memorable group of people are the professional chefs who have been with us for years and have fond memories of buying their first knives from us when they first started college.
We take great delight in nurturing future chefs and watching them as they progress throughout their careers and are very proud to be able to support great initiatives like the Springboard Charity's FutureChef Programme.
FutureChef has been running since 1999, starting out solely as a competition that consists of four rounds in schools then going on to local, regional and national finals. This year saw 12,000 entrants shortlisted to just 12 finalists.
We have been involved with the team at Springboard for over 10 years and are proud to support this year's competition by donating embroidered aprons to all of the regional and national finalists and knife sets for each of the twelve regional winners.
This year's competition was won by 16 year-old Catrin Manning from Carmarthenshire, who delighted the judges, including Rick Stein and David Mulcahy, with her main of sea bass with a brassica and chilli dressing followed by a crème brulée with butter shortbread and a vanilla and balsamic dressing for dessert. Wojtek Czyżewski, 16 from Castlebrae Community High, Edinburgh came second, and Imogen Pickles, 16, Parkside School in Bradford won third prize.
Though the competition was initially a great way of getting young people involved in the culinary arts, The Springboard Charity knew that it needed to do more to engage young people. It was from this need that the FutureChef programme was created as a year-round education programme that seeks to educate young people in schools about food and nutrition.
Brian Turner CBE, the British chef and household name, got involved with Springboard and FutureChef from the competition's inception. He believes the programme is vital for educating young people about nutrition and getting them into the industry.
Brian said: "There are two reasons why we need FutureChef. The first is that there isn't nearly enough domestic science and food tech being taught today, so young people aren't learning the basic skills of cooking that sustain their way of living. Secondly, it encourages people to develop their skills and enter into the industry."
We're proud of our association with The Springboard Charity that helps to reduce unemployment and poverty across the UK and enables people of all ages and backgrounds to achieve their career potential in hospitality, leisure and tourism.
Take a look at this video if you want to be inspired by the skills of this year's finalists and click here to register for the next FutureChef competition.
Photo: Richard Russum is pictured with Brian Turner, left, Rick Stein, right and winner Catrin Manning.
19 April 2018