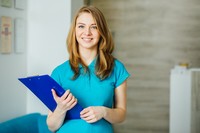 We have launched a new range of clothing for the Health and Social Care students
We're delighted to announce that we have expanded our range of professional workwear with a bespoke range for Health and Social Care students.
The range of specialist clothing includes aprons, tunics and polo shirts that can be all be personalised by our talented in house embroidery team.
Of the launch, our Sales and Marketing Manager, John-Paul Marsden said: "We have earned a good reputation for supplying high quality, value for money workwear to Hospitality and Catering colleges over the last 50 years, so we thought that we'd apply this expertise to Health and Social Care colleges and training providers nationwide.
"We keep a large range of items in stock and our in house sewing and embroidery rooms gives us the ability to supply on demand and cut lead times. We also offer a fully personalised college branded web portal and a new online ordering system that is easy to use for both staff and students."
Chaz Talbot, Academy Manager for Hospitality, Catering and Care at City College, Plymouth is delighted with the Health and Social Care range: "I always find Russums products to be of good value, high quality and durable. Our students look great in their branded polo shirts, tunics and fleeces, representing the College in work placement settings across Plymouth.
"Ordering systems are slick and products always arrive in a timely fashion."
26 June 2018