Click the following links to jump to the relevant sections: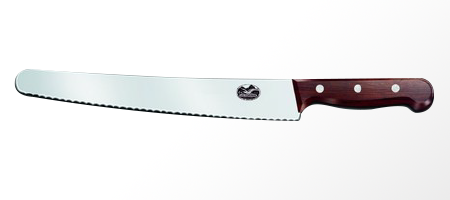 This highly versatile knife is very popular among chefs. In fact, the pastry knife is cited by many chefs as their 'go-to' knife for day-to-day tasks in the kitchen.
Its long serrated blade is more flexible than a standard chef's knife, while remaining strong. The blade remains broad to the tip, allowing the knife to double as a palette knife or spatula for certain jobs.
What makes a pastry knife distinct?
The following table describes the key features and uses of a pastry knife:
| | |
| --- | --- |
| Serrated edge | Perfect for cutting cleanly through hard baked pastry crusts. The fine serration helps when portioning delicate sponges and pastries. |
| Long blade | Used to lift rolled pastry from a board. The long blade also makes cutting large cake, pies and pastries easy. Used to make horizontal cuts through sponges. |
| Wide blade | As well as helping to move rolled pastry, the wide blade can be used to spread icing, jam and other fillings. |
| Rounded tip | Good for removing cakes and pastries from baking pans with little damage. |
Similar knives and their differences
In some parts of the world, a pastry knife can refer to a number of different items:
Pastry blade — A curved implement featuring several blades or wires, used for 'cutting' butter into flower.
Palette/frosting knife — A broad-bladed utensil with a handle raised above the plain of the blade, for spreading icing and lifting cakes/pastries.
Bench knife/dough cutter — A wide, rectangular blade with a handle moulded along the top edge, used to separate portions of dough and scrape clean work surfaces.
Pastry knife brands
The following table showcases some of the best pastry knives on the market:
| | | | |
| --- | --- | --- | --- |
| Image | Knife | Description | Cost* |
| | | Made in Sheffield. Inexpensive and robust. | |
| | | From the trusted manufacturer of the world-famous Swiss Army knife. Features a beautiful rosewood handle. | |
| | | High production value at a reasonable price. Made from high carbon stainless steel. | |
| | | Comes with slip-resistant handle. | |
* Excluding VAT
Pastry knives in sets
Take a look at some of the sets that contain pastry knives alongside other tools crucial for the professional kitchen:
Set

Set Image

Contents

Case

Cost*

28cm sharpening steel
28cm cooks knife
26cm pastry knife
22cm cooks knife
18cm filleting knife
15cm boning knife
18cm fork
10cm paring knife
6cm turning knife
Peeler
23cm palette
Double-ended parisienne cutter
Decorator
Zester

Hard, black 49cm x 31cm case

28cm sharpening steel
28cm cooks knife
26cm pastry knife
22cm cooks knife
18cm filleting knife
15cm boning knife
18cm fork
10cm paring knife
6cm turning knife
Peeler
23cm palette
Double-ended parisienne cutter
Decorator
Zester

Hard, black 49cm x 31cm case with 2 solid plastic inlays

26cm steel
23cm Silverpoint cooks knife
23cm Silverpoint pastry knife
16cm Silverpoint filleting knife
8cm Silverpoint paring knife

Wusthof knife roll

28cm sharpening steel
28cm cooks knife
26cm pastry knife
19cm cooks knife
28cm butchers knife
30cm salmon knife
18cm filleting knife
15cm boning knife
18cm fork
10cm paring knife
6cm turning knife
Peeler
25cm palette
Double-ended parisienne cutter
Decorator
Zester
Apple corer
Oyster knife
Fish scissors
Decorating knife
10 plain and 10 star piping tubes
3 trussing needles
2 larding needles

510 x 380mm case with 2 solid plastic inlays

28cm sharpening steel
28cm cooks knife
26cm pastry knife
19cm cooks knife
28cm butchers knife
30cm salmon knife
18cm filleting knife
15cm boning knife
18cm fork
10cm paring knife
6cm turning knife
Peeler
25cm palette
Double-ended parisienne cutter
Decorator
Zester
Apple corer
Oyster knife
Fish scissors
Decorating knife
10 plain and 10 star piping tubes
3 trussing needles
2 larding needles

510 x 380mm case with 2 solid plastic inlays

26cm steel
23cm Classic cooks knife
26cm Gourmet pastry knife
16cm Gourmet filleting knife
10cm Gourmet paring knife

Wusthof knife roll

20cm classic cooks knife
23cm classic carver 16cm classic filleter
16cm carving fork Gourmet 14cm boning knife
Gourmet 26cm pastry knife
Salmon slicer
Gourmet utility knife
26cm steel
2 x larding needles
Trussing needle
Zester
Decorator
Apple corer
Melon baller
Peeler
Palette knife
Decorating knife

Sturdy, lockable aluminium magnetic case

20cm classic cooks knife
23cm classic carver 16cm classic filleter 16cm carving fork Gourmet 14cm boning knife
Gourmet 26cm pastry knife
Salmon slicer
Gourmet utility knife
26cm steel
2 x larding needles
Trussing needle
Zester
Decorator
Apple corer
Melon baller
Peeler
Palette knife
Decorating knife

Sturdy, lockable aluminium magnetic case

23cm sharpening steel
20cm cooks knife
23cm pastry knife
14cm boning knife
12cm utility knife
6cm peeling knife

Durable, wipe clean roll
* Excluding VAT
Best pastry knives
Look at the table below for information on some of the best pastry knives available for your kitchen:
| | | | |
| --- | --- | --- | --- |
| Image | Knife | Description | Cost* |
| | | Made in Switzerland by the originators of the Swiss Army knife, the full tang stainless steel blade is light and narrow due to the stamping process used in its construction. Hand finished with a lifetime warranty, these relatively inexpensive knives are known for holding their sharpness. The wooden handle is of the classic three-rivet design. | |
| | | The knives in Russums' very own range are made in the UK's steel and knife-making capital — Sheffield. Very reasonably priced and of high quality, Smithfield knives are produced with stainless steel blades and samprene handles, moulded for extra grip. | |
| | | These German-made knives are produced to a high standard using high-carbon, stain-resistant steel. Specially designed handles reduce slip and mould to the hand. | |
* Excluding VAT
To find out more about the different knives available for your kitchen, click on the following links:
Guide to Carving and Slicing Knives
Guide to Sushi and Sashimi Knives
24 July 2017